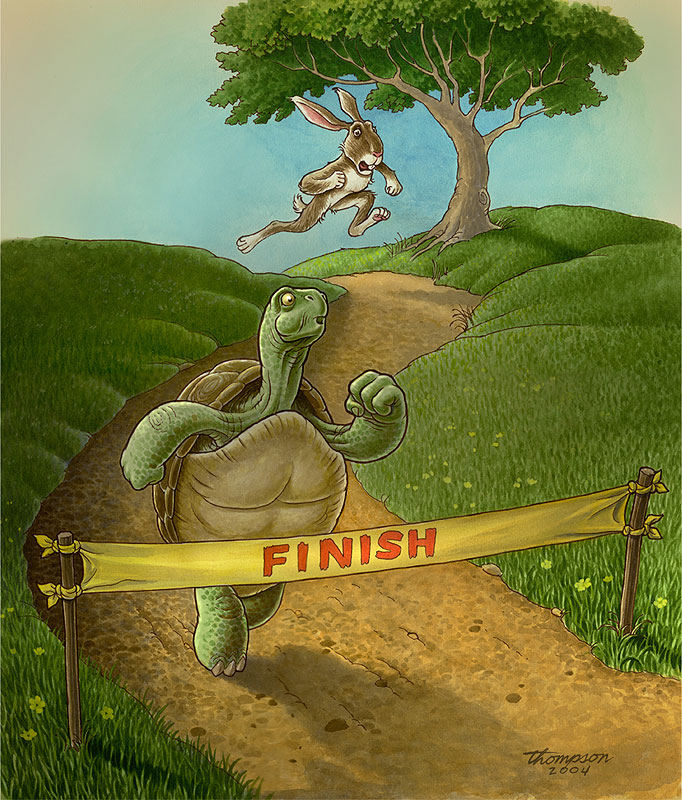 Valuations, a sprint of a marathon? In our story of the Tortoise and the Hare we are looking at how these two characters approach the race to sell your home. Every day we can see examples of how the story of the Tortoise and the Hare apply to the business of estate agency and this is a classic example.
The Tortoise and Hare approach valuations quite differently. After a customer books a valuation, both the Tortoise and the Hare will prepare to meet the prospective customer(s). Their preparation should include; assessing the current marketplace, identifying competing properties and looking at the most recent sales of similar properties. So when you invite agents to value your property, what do you need to know?
The Hare will concentrate on the houses sale price and the fee. Commonly it will be suggested that an agent has many purchasers on their books, just waiting for a property like yours to be available. The Hare may also suggest that a sale could be tied up in 8 – 10 weeks. Not only this, they will probably give you the expectation that you will achieve more than similar properties that have just been sold.
The Hare at this point will then ask you to sign a sale agreement between 20 – 26 weeks. This time frame is not always made clear at the appraisal. The question the Hare should be asked is "why is it promising a sprint, when it's contract looks like a marathon?"
The wise old Tortoise knows that reputation is built on solid hard work and actively marketing homes, this is achievable with the right price and the right marketing. So they know that when a vendor comes on board with them, a 12 week contract should often be enough to sell the home within a 12 week period. The Tortoise understands that actively marketing a home to sell means working within a structured framework, with professional photography, video, floor plans and a strategic approach to pricing a property. Therefore, a promised 400m race should end at 400 metres.
Contract length and pricing should work in unison. The Tortoise is quietly confident that a 12 week contract allows him to work in line with the current housing market putting the vendors home in a competitive bracket to achieve a sale.
Our Tortoise believes in simple strategies that work so he has developed a Marketing Tool kit that works alongside a 12 week marketing plan that ensures a vendors home will be sold as quickly as possible at the best possible price. This includes the use of professional property videos that are used to market across a broad range of platforms including Rightmove, Zoopla, Facebook & Google.
If you are working with a Hare right now, check your contract! Ensure you are not caught out by penalties for leaving long contracts or payments for adhoc in house services such as conveyancing or mortgage advice prior to acceptance of an offer. Make sure you read the small print or call Tortoise on 01733 592020 to see how our confidence in our structured methods will give your home the best chance of being sold within 12 weeks.