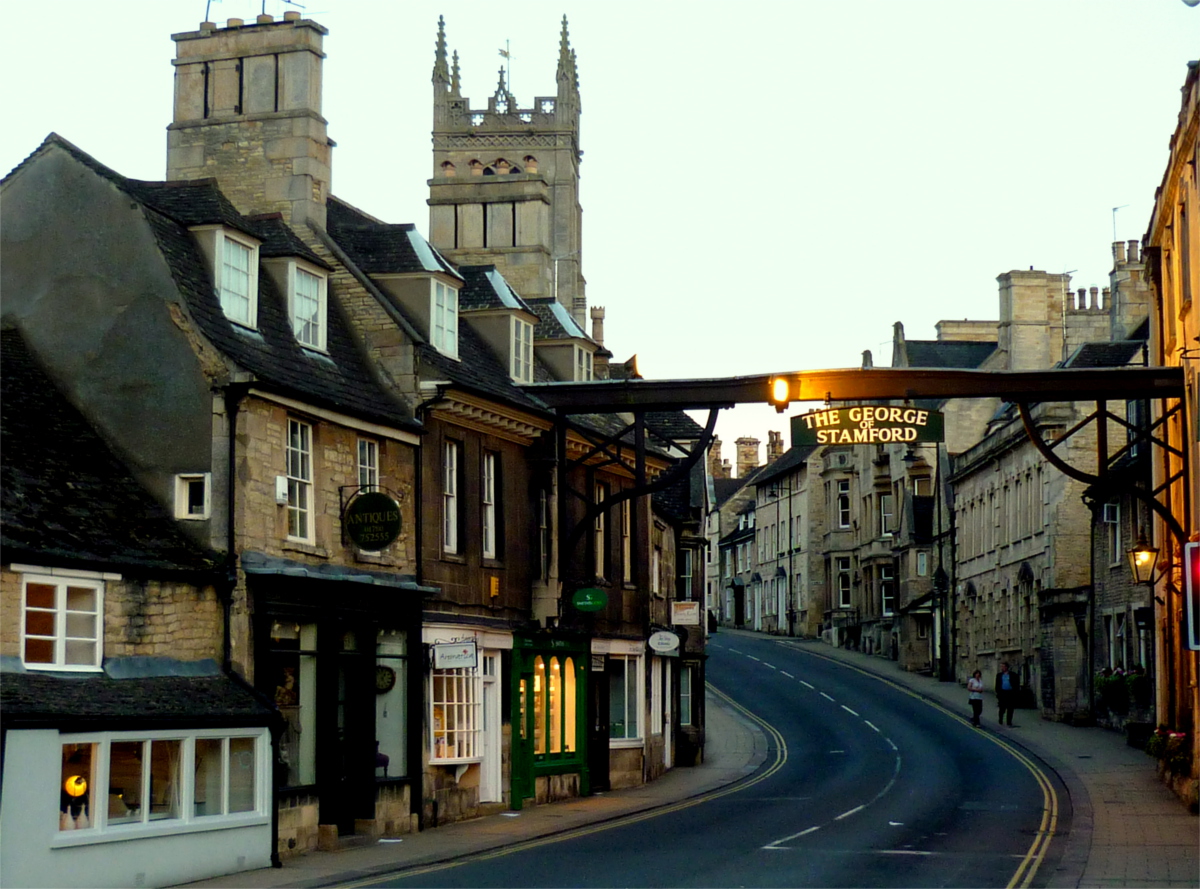 Stamford is a town on the River Welland in Lincolnshire, England, 92 miles (148 km) north of London on the A1. The population at the 2001 census was 21,800 including the adjacent parish of St Martin's Without.
The town has 17th and 18th-century stone buildings, older timber-framed buildings and five medieval parish churches. The Romans built Ermine Street across what is now Burghley Park and through the middle of the town, where it forded the Welland, eventually reaching Lincoln; they built a town to the north at Great Casterton on the River Gwash. In AD 61 Boudica followed the Roman 9th Legion (Legio IX Hispana) across the river. The Anglo-Saxons later chose Stamford as their main town, being on a more important river than the Gwash.
In 972 King Edgar made Stamford a borough. The Anglo-Saxons and Danes faced each other across the river. The town originally grew as a Danish settlement at the lowest point that the Welland could be crossed by ford or bridge. Stamford was the only one of the Danelaw Five Burghs ("boroughs") not to become a county town. Initially a pottery centre, producing Stamford Ware, by the Middle Ages it had become famous for its production of wool and the woollen cloth known as Stamford cloth or haberget – which "In Henry III's reign … was well known in Venice".
Lying as it does on the main north-south route (Ermine Street, the Great North Road and now the A1) from London to York and Edinburgh, several Parliaments were held in Stamford in the Middle Ages. The George, the Bull and Swan, the Crown and the London Inn were well-known coaching inns. The town had to manage with Britain's north-south traffic through its narrow roads until 1960, when the bypass was built to the west of the town, only a few months after the M1 opened. The old route is now the B1081.
As estate agents in Peterborough we love Stamford as it has a real heart and soul, and many people that live here have done so for years. It has all you need within walking distance.
Contact us on 01733 592020 to see how our professional Relationship Managers can help you buy, rent, sell or let in Stamford. Alternatively take a look at our available properties at www.tortoiseproperty.co.uk