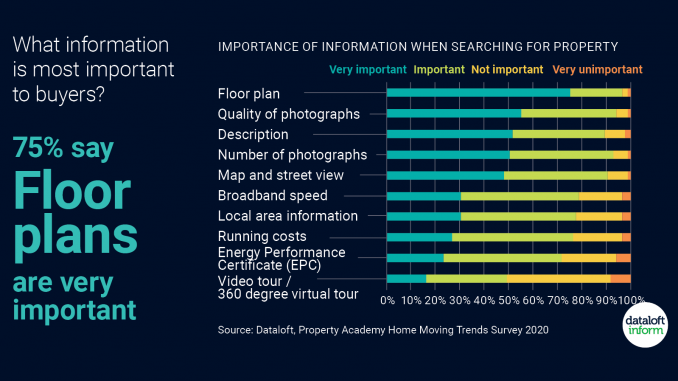 We know floor plans are important, that is why we all produce them. Nothing new, nothing different.
But only 50% of purchasers thought that a video tour or a virtual tour was important in 2020! This during the biggest pandemic of our generation.
I get it, some of the tours produced by agents were of such a poor quality that they were like watching 'The Blair Witch Project'. Complete horror shows!
Many agents have stopped using virtual tours even though the law has not changed in regards to the Coronavirus Act and being Covid-Secure. Not sure this is a great move, but each to their own.
Since the pandemic started in March 2020 our video tours have been watched 113,035 times and since July 2020 10,419 people have viewed our virtual tours. We have received offers to buy properties following the completion of virtual tours and have taken rental applications from people across the world after completing zoom virtual tour meetings.
So far this year (2021) we have a 90+ % sale success rate, we have sold all of these properties in an average of 6 weeks, averaging 6 viewings a sale. Every client has use of our tours and these numbers SMASH the industry average and WE LOVE using video and virtual tours!
Seth Godin (a marketing god to some) recently said during a speech at Adworld that good taste within a business is knowing "what is good for a customer before they know it themselves".
We believe we have good taste Seth! While staying Covid-Secure. That's what sharing expertise with clients is about!
Take a wander through a home we sold in a week for the asking price and see which 50% of people you agree with?
Link: https://vimeo.com/478578385
Link: https://premium.giraffe360.com/tortoiseproperty/stackyard/
I understand you want to touch it, feel it, see it with your own eyes, but If you would like to know more about how video tours and virtual tours can help sell your home for the best price in an efficient Covid-Secure way call Tortoise Property on 01733 592020.
Mike Matthews
Tortoise Property