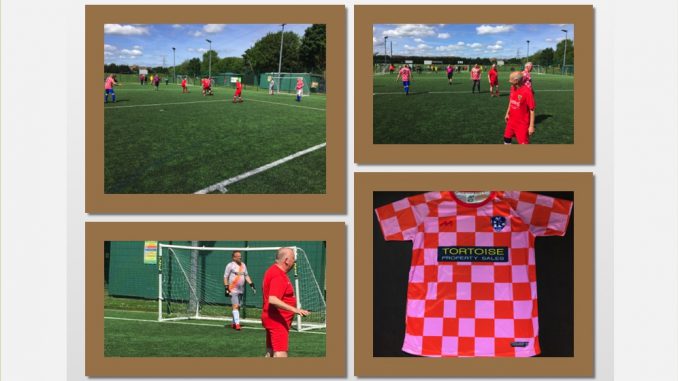 The Hampton Walking Football team turned up at the Nene Valley Community Centre on the 21/5/2022 in bright sunshine ready for another set of league fixtures against Glinton and Harborough Hornets.
With every goal scored today adding £10 to the charity fund set up by the team this was the last opportunity of the season to make a difference to the season's total. The team were looking forward to their beach holidays with their WAGS as they strode onto the pitch to face Glinton for the second and final time. With 42 goals scored by the team so far this season, and their second place in the league secured, these two games gave the team a great chance to add to their goal tally so far and increase their charitable funds.
So, on came the pink and orange team shirts! The side sponsored by Tortoise Property took to the field without their winter string vests, running tights and gloves.  However, they did all add a little sunscreen for protection on their noses as well as heads!
The first game was played against Glinton who were trying to avenge the defeat they suffered to Hampton in the previous round of matches.
However, once again, Hampton Walking Football Team were too strong with our own man mountains known as the 'Andy's' scoring all our goals. Andy 'Lineker' Wallman scoring 4 goals with Andy 'Wednesday' Hovey scoring 1 goal.  A special mention goes to our keeper Matthew 'throw my cap on it' Bliszczak who made a great finger tip save.  We know this as he broke a nail.  Glinton never gave in and scored three goals of their own; meaning the game finished 5-3 to Hampton.
After a latte and a bacon roll we moved onto game two where we played the Harborough Hornets. Being the last game of the season the game was played in an enthusiastic manner.  With thoughts of Pina Colada's and pool parties running through the boys minds they were quick to put this game to bed winning 5-1 with all the goals being scored by Andy 'Romario' Wallman. Once again Matthew "I used to play in midfield, did you know'' Bliszczak made an unbelievable reactive save with his left hand from close range.  He has not reacted that fast since his wife woke him up on the sofa on Saturday afternoon.
So another 10 goals scored in two games means a contribution of £100 by Tortoise Property into the club's Charity Fund. 
So……bring on the beach bars, margaritas and budgie smugglers! Costa del sol "here come the boys" from the Hampton Walking Football Team.
As watched by Mike 'Dickie Davies' Matthews from Tortoise Property.