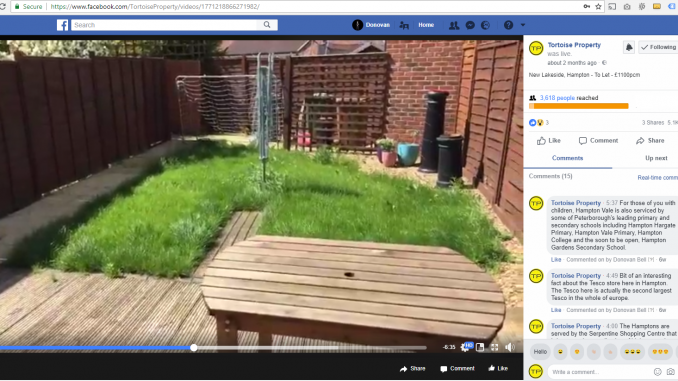 New Lakeside, Hampton – To Let – £1100pcm

Posted by Tortoise Property on Thursday, May 3, 2018

Have you seen any of our live property tours on Facebook? We think these are the 'open house' of the future, available today from Tortoise Property.
There are only so many people you can physically squeeze into a property during an open house and many people have to travel long distances to view a property.  Whereas the potential reach of a digital tour is limitless.  Using a special camera one of our Relationship Managers takes you through a property so people watching live can get a real feel for the spaces, what they can be used for and ask questions about a property, all in real time.
These are perfect for people looking to relocate and not able to make day trips to view house after house. They're great for buyers who struggle to get time away from work and need to construct a shortlist to view in person,  more likely if they like what they see via an online tour rather than choosing a shortlist from the limitations of using photographs alone.
The Facebook live tour also provides information on what is in the local area and distances to local amenities including schools and road/rail networks. What's more, unlike a standard viewing you can watch the tours over and over again in case you missed something in the live video.
Potential buyers are also able to comment and ask questions via our live chat feed. This is just the kind of personal service you would get in a 1-2-1 tour with a Relationship Manager as when watching live your questions can be answered as the presenter walks round. Not only do we have people following us live, the video then gets viewed 1000s of times in the days following the broadcast so they really are a brilliant way of showing off a property to buyers.
The marketing push that sharing a Facebook live video gives a property makes for a tremendous natural reach, meaning it can spark an interest in a property not only from people searching on the property portals, but also encourages people to think about moving to the home of their dreams all from the comfort of their own living room from their own facebook page.
Check out our Facebook page at Tortoise Property to experience #OurDifference and give us a call if you are interested in the digital marketing tools we can provide to sell your property on 01733 592020.