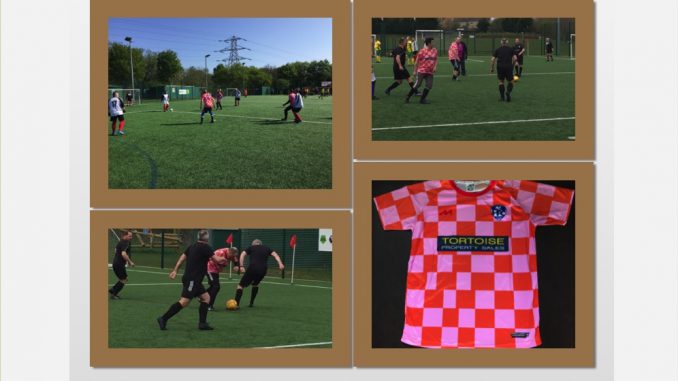 The Hampton Walking Football team turned up at the Nene Valley Community Centre on the 24/4/2022 in bright sunshine ready for another set of league fixtures against Netherton and Glinton.
With every goal scored today adding £10 to the charity fund set up by the team, the team were looking organised, sharp, raring to go and, as usual, a little overweight! With 30 goals scored by the team so far this season their ability to consolidate their second place in the league seemed a challenge that could easily be met.
So on came the pink and orange team shirts, the shin pads, boots, knee supports, glasses and hearing aids! The side sponsored by Tortoise Property took to the field with gusto!
The first game was played against Netherton who played fairly, with heart and gave their all until the very end.
However, Hampton Walking Football Team were too strong with Mark 'Mr Hampton FC' Ansell-Crook scoring 4 goals, scoring 2 goals, Darren 'I will kick your ankles' Taylor, Andy 'Sheffield' Hovey and Tim 'the boss' Peters all scoring one. A special mention goes to our keeper Matthew 'the cat' Bliszczak who saved his second penalty of the season.
After a cuppa and a bacon roll we moved onto game two where we played a strong Glinton side. The game was played in good spirits although enthusiasm got the better of some as the referee whistled a few times for running! Yes running, most of the boys have not run in years!
After a tight game, goals from Darren 'I will bite your leg' Taylor, Andy 'Robo-cop' Hovey and Andy 'Shearer' Wallman helped the team to a 3-2 win.
So 12 goals scored in two games means a contribution of £120 will be made by Tortoise Property into the club's Charity Fund to be distributed at the end of the season by the team.
So……bring on the final fixtures of the season against Glinton once more and Harborough Hornets on the 22/5/2022!
As watched by Mike 'Des Lynam' Matthews from Tortoise Property.
#property #community #football #charity #estateagent #peterborough #walkingfootball #tortoiseproperty #hampton